Since the invention of the plow, nutrient density has plummeted. Plowing destroys soil habitat, exposes soil to erosion and leaching and oxidises soil carbon. The advent of the tractor made plowing easier on a large scaleand more destructive leading to an increased loss of topsoil and further reducing nutrient density. The process of soil degradation worsened with the more recent introduction of chemical farming. Chemical fertilisers are essentially salt, they destroy soil life and cause plants to grow quickly and look healthy but the plants are being forced to grow unnaturally. The salt in the fertilizer causes the plants to take up more water  swelling them and making them look plump and even healthier, however the vitamins and minerals in these plants which are essential to human health are greatly diminished.
Minerals in the soil are present in great quantities in the stone and other places inaccessible to plants directly. In a healthy soil plants form symbiotic relationships with soil living bacteria and fungi who secrete mild acids to dissolve stone and make minerals available. In exchange, the plant secretes sugars to feed this soil life. These relationships are absolutely essential for truly healthy plants and the health of those who eat them. It helps to think of a plant as a farmer who raises trillions of other organisms to sustain it.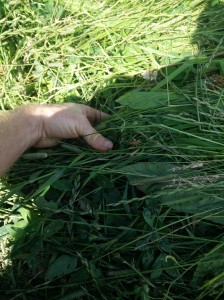 Unfortunately it seems that the whole drive of modern agriculture has been aimed at eliminating this natural and essential soil life forcing farmers both conventional and to a great extent organic farmers to artificially apply more and more minerals to their growing cycle. This is a treadmill which increases costs and depletes soils.The many and varied organisms in our soils exist to perform a beneficial job which they perform better than we ever can and yet we have replaced this free source of fertility with our own labor and fossil energy reserves.
When soils were healthier people received all the vitamins and minerals needed from the naturally nutrient dense food they ate. Now to stay healthy people must supplement with commercially prepared vitamins and minerals.
Food for Humans can do better! We can produce food that is truly healthy. Almost all of the agricultural soils on earth have been  degraded and truly healthy food is very difficult to find but we can fix that in our small corner of the globe, We have the tools and the knowledge right now.
So what do we do to replace tillage?
We rely on the earthworms and fungi to build our soil structure and we do this be feeding and protecting them.
We farm using a system of raised beds which are made of compost. This does indeed require a very large amount of compost but it also builds a home for trillions of microrganisms and produces great vegetables. This large initial compost use has many other benefits such as reducing the weed pressure in the beds and allowing us to grow crops closer together.
This approach, when combined with plastic tarps, results in so little weed pressure that it is no longer an issue. The black plastic tarps cause  cause weeds underneath them to germinate and then die because there is no light. They are also very effective at preparing new ground for production.
The only semi tillage tool we use is a broadfork. This is a very gentle tool which does not destroy soil structure or invert the soil. We use it only for root crops to ensure that there is no hard pan that will interfere with their growth. Even the broadfork will be retired as the soil continues to improve.
A further key to feeding the soil life which drives our system is to keep living plant roots in the soil all the . This is a challenge to say the least. Our primary strategy is to use large transplants and put in one crop after another with only hours between the two. This gives us a lot more successional crops  while also keeping the soil life fed with the sugar secretions they require.
A word about cover crops!
We occasionally use cover crops on our beds but vegetables also carry out the same functions of feeding and keeping the soil covered. when choosing between a cover or a cash crop, all things being equal, we will always choose the cash crop because sustainability also applies to finances.